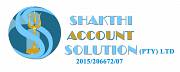 Firm
SHAKTHI ACCOUNT SOLUTION (PTY) LTD
Suburb
DALPARK, EASTRAND | Map
Address
10 KRINKHOUT STREET, DALPARK EXT 6 , BRAKPAN, GAUTENG, 1541
Languages
ENGLISH (in order of proficiency)
Email
Tel
011-915-0300
Cel
0741610956
Qualifications



>Services
Accountants Fields of Specialization: AFFORDABLE RATES WITH GREAT SERVICE FROM CUSTOMISED PACKAGES INCLUSIVE OF ACCOUNTING, TAX, AUDIT, PAYROLL .YEARS OF FINANCIAL EXPERIENCE, SAVE MONEY N GROW BIZ
| | | | | | | |
| --- | --- | --- | --- | --- | --- | --- |
| | Close Corporation | Pty (Ltd) Company | Partnership | Sole Proprietor | Private Individual | Trust |
| Monthly | | | | | | |
| DayToDay | | | | | | |
| Annual | | | | | | |
| Returns | | | | | | |
| Setup | | | | | | |
| Auditing | | | | | | |
| Tax Advice | | | | | | |
| Gen Advice | | | | | | |
| Payroll | | | | | | |
| Review | | | | | | |
| Software | | | | | | |
| Other | | | | | | |
Other Services:
FINANCIAL ADVISE , PERSONAL INCOME TAX, ALL SARS REGISTRATIONS INCOME TAX, VAT REGISTRATIONS, PAYE/UIF/SDL REGISTRATIONS, BBBEE CERTIFICATIONS, COIDA REGISTRATIONS, LETTER OF GOOD STANDING, NON PROFIT ORGANISATIONS
Experience
Extensive experience in specific industries:
MANAGEMENT ACCOUNTS, SARS COMPLIANCY, FINANCIAL REPORTING , YEARLY AUDITING, CASHFLOW, BUDGETS, ALL FINANCIAL ISSUES

Business Practices
Accountant Average
Hourly Fees

unknown
Please request a quote for exact amounts.
Please note that this is an indicative rate and may vary according to task.
Software Supported
ALL SAGE PRODUCTS ACCOUNTING AND PAYROLL
Number of staff
in Accountant firm
1


This Accountant has not activated comment functionality yet.


Please be sure to mention that you found this
Accountant
on www.findanaccountant.co.za!